Information Polity
An International Journal of Government and Democracy in the Information Age
Share this journal
ISSN print

1570-1255

ISSN online

1875-8754

Volume

26; 4 issues

Status

Last issue (26:2) online on 04 June 2021

Next issue

26:3 scheduled for September 2021

Back volumes

1-25

Website

Subject
Information Polity is a tangible expression of the increasing awareness that Information and Communication technologies (ICTs) have become of deep significance for all polities as new technology-enabled forms of government, governing and democratic practice are sought or experienced throughout the world. This journal positions itself in these contexts, seeking to be at the forefront of thought leadership and debate about emerging issues, impact, and implications of government and democracy in the information age. Information Polity aims to publish academic work that contributes to understanding and strengthening a democratic information polity.
The journal promotes interdisciplinary work drawing from the wider social sciences (e.g. public policy, public management, public administration, political science, information systems, information science, media studies, philosophy, sociology, law, economics) and welcomes articles with an empirical, theoretical or conceptual contribution from scholars and practitioners throughout the world. The journal is both international and comparative in its perspectives and publishes articles on political, public policy, institutional, social, economic, legal, managerial, organizational, ethical, and wider social scientific themes and issues as they relate to the application of ICTs in government, governing and democratic practice. Examples of such themes and issues are:
-       Bureaucratic reform and modernization
-       Public and democratic innovation
-       Public policy in the information age
-       Citizenship in the information age
-       The impact of ICTs on political institutions and democratic practice
-       ICT regulation and governance
-       Social media and citizen engagement
-       Political information and the role of new media
-       Internet activism, political organization and collective action
-       Government ICT strategy, leadership and management
-       Service transformation and multi-channel service provision
-       Cross-government information-sharing
-       Digital identity and privacy
-       Surveillance and cybersecurity
-       Open government, transparency and accountability
-       Public records management in the information age
-       Public innovation management, evaluation and benefits realization
Publishing in Information Polity
The journal is keen to receive well-written rigorous journal articles from its targeted authors on topics as stated above. Articles submitted for consideration must be written in English and checked by a native speaker. The journal will welcome expert opinion pieces as well as articles deriving from research and practice.
Academic articles submitted should normally not exceed 8000 words in length [including references]. Articles in the form of authoritative, well-researched case studies or country reports will be welcomed and will not normally exceed 4500 words. The journal will also commission reviews, including book reviews, social media reviews, reviews of research reports and strategy documents, expert opinion pieces, and short research notes, which normally will not exceed 2000 words.
Peer Review Policy
Published articles in Information Polity have all been subject to rigorous peer review, based on an initial editorial screening and anonymous refereeing by a minimum of two referees.
Editors-in-Chief
Albert Meijer, Ph.D.
Professor of Public Innovation
Utrecht University
School of Government
Bijlhouwerstraat 6
3511 ZC Utrecht
Netherlands
Email: a.j.meijer@uu.nl

William Webster, Ph.D.
Professor of Public Policy and Management
Centre for Research into Information,
Surveillance and Privacy (CRISP),
University of Stirling
Stirling, FK9 4LA
Email: william.webster@stir.ac.uk

Honorary Editor-in-Chief 
Professor Emeritus John Taylor

Reviews Editor
Dr. Karl Lofgren
Associate Professor
School of Government
PO Box 600
Wellington 6140
New Zealand
Tel.: +64 4 463 6349
Email: karl.lofgren@vuw.ac.nz

Social Media Editor
Keegan McBride
Lab Manager – GovAiLab
Junior Research Fellow / Doctoral Candidate
School of Information Technologies
Information Systems Research Group
Tallinn University of Technology
Tallinn, Estonia
Email: keegan.mcbride@taltech.ee

Website Editor
Dr. Sarah Hendrica Bickerton
Postdoctoral Research Fellow
Public Policy Institute
University of Auckland
Auckland, New Zealand
Email: sarah.bickerton@auckland.ac.nz

Associate Editors
Europe:
Associate Prof. Frank Bannister, Trinity College, Dublin, Ireland
Prof. Tobias Mettler, UNIL IDHEAP, Lausanne, Switzerland
Dr. Giorgia Nesti, University of Padova, Padova, Italy
Asia:
Prof. Heungsuk Choi, Korea University, Seoul, South Korea
South America:
Dr. Maria Alexandra Cunha, Fundacao Gerulio Vargas, Sao Paulo, Brazil
North America:
Dr. Mila Gasco, Center for Technology in Government, State University of New York at Albany, USA
Oceania:
Associate Prof. Paul Henman , University of Queensland, Brisbane, Australia
Africa:
Dr. Adegboyega Ojo, National University of Ireland, Galway, Ireland

Editorial Board


Prof. Victor J.J.M. Bekkers, Erasmus University Rotterdam, The Netherlands
Prof. Colin J. Bennett, University of Victoria, Canada
Prof. John C. Bertot, University of Maryland, USA
Dr. Eleanor Burt, University of St. Andrews, United Kingdom
Dr. Lemuria Carter, Virginia Commonwealth University, USA
Prof. Manuel Castells, University of Southern California, USA
Prof. Andrew Chadwick, Loughborough University, United Kingdom
Prof. Soon Ae Chun, City University of New York, USA
Prof. Stephen Coleman, University of Leeds, United Kingdom
Prof. William H. Dutton, Michigan State University, USA
Dr. Elizabeth Eppel, Victoria University of Wellington, New Zealand
Prof. Leif Skiftenes Flak, University of Agder, Norway
Prof. Jane E. Fountain, University of Massachusetts Amherst, USA
Dr. J. Ramon Gil-Garcia, State University of New York, USA
Prof. Olivier Glassey, Université de Lausanne, Switzerland
Prof. Tomasz Janowski, Danube University Krems, Austria
Prof. Marijn Janssen, Delft University of Technology, The Netherlands
Associate Prof. Bram Klievink, Delft University of Technology, The Netherlands
Prof. Robert Krimmer, Tallinn University of Technology, Estonia
Prof. Klaus Lenk, University of Oldenburg, Germany
Prof. Miriam Lips, Victoria University of Wellington, New Zealand
Prof. Helen Margetts, University of Oxford, United Kingdom
Prof. Ian McLoughlin, Monash University, Australia
Prof. Dr. Ines Mergel, University of Konstanz, Germany
Prof. Tobias Mettler, University of Lausanne, Switzerland
Prof. Dr. Toshio Obi, Waseda University, Japan
Dr. Theresa A. Pardo, State University of New York, USA
Prof. Peter Parycek, Donau-Universität Krems, Austria
Prof. Charles Raab, University of Edinburgh, United Kingdom
Prof. Christopher G. Reddick, University of Texas at San Antonio, USA
Prof. Alasdair S. Roberts, University of Missouri, USA
Prof. Scott Robertson, University of Hawaii at Manoa, USA
Dr. Jesper Schlaeger, Sichuan University, China
Prof. Hans Jochen Scholl, University of Washington, USA
Prof. Tino Schuppan, The Potsdam eGovernment Competence Centre, Germany
Dr. Colin F. Smith, Edinburgh Napier University, United Kingdom
Prof. Maddalena Sorrentino, Università degli studi di Milano, Italy
Dr. Marcel Thaens, the Netherlands
Dr. Thierry Vedel, Centre for Political Research SciencesPo, France
Prof. Mirko Vintar, University of Ljubljana, Slovenia
Prof. Elin Wihlborg, Linkoping University, Sweden
Prof. Rob Wilson, Northumbria University, United Kingdom
ACM Digital Library
Cambridge Scientific Abstracts
CSA Illumina
DBLP Bibliography Server
EBSCO databases
Environment Abstracts
ERIH Plus
Google Scholar
Information Reports & Bibliographies
Inspec IET
MasterFILE
Scopus
Ulrich's Periodicals Directory
UMI Serials Acquisitions
Web of Science: Emerging Sources Citation Index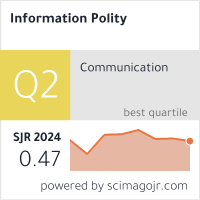 According to the SCImago Journal Rank, Information Polity is ranked in the first quartile of Public Administration, Sociology and Political Science, Communication and Geography, Planning and Development journals. It is ranked in the second quartile of Information Systems journals.
The SCImago Journal Rank is a portal that includes the journals and country scientific indicators developed from the information contained in the Scopus® database (Elsevier B.V.).
SCImago. (2007). SJR — SCImago Journal & Country Rank.
Retrieved from http://www.scimagojr.com